At DISTEC we have many patents regarding our scrolling technology and many patents pending covering improved developments within our product range. Further R&D will include digital displays that will integrate low energy, bright display and remote access for image control. Our R&D departments around the globe are always aiming to develop the most suitable solution for our clients. When our designers create a new product, the use of innovative technology and quality is the premium goal.

The out of home media network business demands practicable solutions. For ex. changing images in 5 minutes rather than 20 minutes makes a big difference.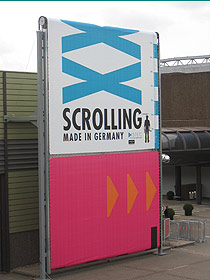 DISTECs goal is to provide Out-Of-Home Media companies with high quality products that are both optically and functionally appealing. Our products are made of high quality components including steel panels, stainless steel, powder coated aluminium and extruded aluminium profiles as well as safety glass.
Some of our innovative product developments of the past includes the backlit poster-lift system which meets the new "health and safety" standards in many countries world wide, by allowing the images to be changed within minutes from the bottom of the units.
Also, DISTEC continues to hold the record of supplying the world's largest scroller, today with our new 15×10 meters SKYTOP scroller.
With over 10 year's experience in producing street furniture and our vast expertise in designing products which combat theft and vandalism, we constantly seek out new and improved materials which are highly durable and are incorporated into our products in such a way that they are as resistant as possible to vandalism to minimize the clients expense and maximize the durability and lifespan of our products.