SCROLLER
We have developed many different designs of paper scrolling systems in sizes from less than 2m² up to 18m² (6×3 meters/48-Sheet).
There are some "standard" sizes on the market but we are happy to assist you in any project, any design requirements or whatever your need is. We can manufacture any quantity.
The XXL scrollers start with the size of 6×3 meters (48-Sheet) and the biggest size we have delivered so far is 12,7 x3,3 meters.
We came up with an innovative system, stretching the images between the upper and lower roll by using a patented, spring-loaded side-stretching system.
SKYTOP premiere starts with the giant size of 15 (height) x 10 (width) meters and can scroll two images.
Multiple versions of a product can now be shown on one giant location, combined with an eye-catching scrolling effect.
SKYTOP is carefully engineered to withstand wind loads and other environmental conditions but it is also easy to install.
SCROLLING – METROLIGHT PUBLIC
The quality of the posters in a Metrolight Public Scroller is brilliant. Because of the back-lit the images become more realistic compared to conventional billboards with glued paper.
All posters are fixed on a roll. A special technology allows changing single images.
The Distec Concept:
On request you'll receive the DISTEC-"All In" package including service and maintenance and even print. From print to installation of posters till scheduled maintenance, DISTEC offers service according to your needs.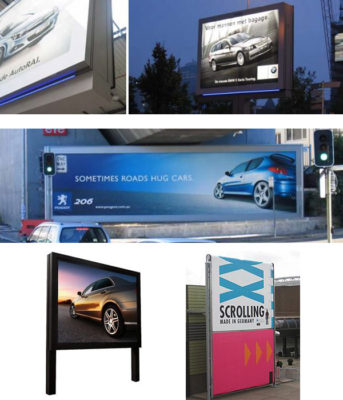 ---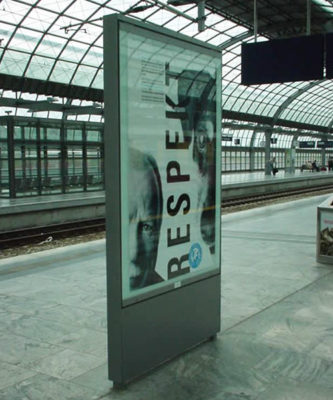 BACKLIT
DISTEC develops different sizes and shapes of static backlits, with or without poles. Standard sizes are 6×3 meters (48-Sheet) and 12×3 meters (96-Sheet) but we can custom design any size required.
The units have been tested under a great variety of weather conditions.
Standard signs come with a manual PosterLift-system allowing image changes from the bottom and meeting health and safety requirements in many countries around the world.
The image is equipped (welded or stitched) with a keder on all four sides. Installation of the image takes only a couple of minutes.
The keder-equipped sides will slide into the internal track system of the box. This supports the image to be lifted and stretched by using a manual wind.
An additional tensioning system on the right side of the box allows to stretch the image horizontally for optimum performance.
We use standard fluorescent lamps operated by electronic ballasts for economical reasons.
The units are generally made out of powder-coated aluminum extrusions. They can be delivered assembled or disassembled. On the back side they are equipped with DISTEC's hang-in system which allows quick installation on site.
We produce classic billboards as well in combination with integrated lighting systems. Customized design is always available.
---
PRINT
Thanks to 30 large format high-resolution digital printers worldwide, a 3.5 million m² yearly printing capacity and an unrivalled expertise in the production of printed supports for the Out-of-Home market, Prismaflex has been the partner of Outdoor Advertisers for 20 years.
Prismaflex printing department is the only one to propose together:
Machines and services available worldwide.
More than 20 years expertise servicing Outdoor Advertisers.
A R&D department specifically dedicated to printing: research on inks, substrates …
An Integrated finishing department, with a constant search for improvement in cutting and welding techniques .
24h organisation with adapted computing means.
PRISMAFLEX has succeeded in industrialising digital printing processes:
From the reception of the artwork to the dispatching.