Digital technology is changing out-of-home advertising in our cities. In response to our clients' needs, DISTEC's newly-established electronic department is performing research and development of new products like LED, SMD-LED or LCD. These can be compatible with a wide variety of signal sources like analogue and digital video as well as data content. DISTEC's digital products can be integrated into wall units, monopoles or existing advertising structures.
DISTEC is dedicated to the future development of digital technologies. Through a local partner in England, we are therefore closely connected to Cambridge University's electronic science department.
DISTEC's range of products along with IP certified housings and high-resolution displays can offer our clients a total solution for all dynamic digital signage whether it integrates into a bus shelter or a large format billboard. We will support all of your needs within the advancing electronic advertising field.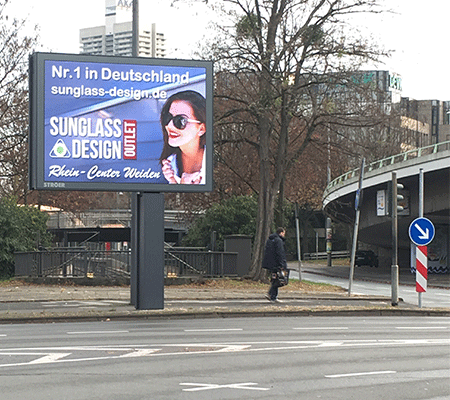 Some advantages of the digital screens:
Reduced costs
Smaller LED/LCD screens reduce difficulties in acquisition of locations and installation costs within inner city landscape.
Point of sales focus
Our electronic advertising systems also shift the installation process away from highway locations, where municipal regulation codes are restrictive when it comes to live video or fast-moving message signs as a potential traffic disruption. Within the inner cities, our digital screens are focused more on pedestrians as a direct audience. This way the screens will have less of a market-entry barrier where other restrictions like for highways or oncoming traffic are a concern.
Maximized marketing
Smaller electronic signs can fit into a greater range of urban street furniture or other targeted spaces, including off-road locations.
Content management
Content is managed remotely and in real time. Our PCM (Prismatronic Content Manager) means you can display static images, text and videos, program your playlists…
Remote control
Our Prismatonic Billboard Manager (BBM), is a control and monitoring system designed to manage your Prismatronic LED display.

⇛    Learn more about Digital Media    ⇚